We've been asking field trip organizers a simple question over the past year: What is the hardest part of planning a school trip?
The responses have been interesting. While the teachers, youth group directors and administrators could write anything they want, the replies have broken down into seven major categories. They are funding, planning the trip, educational aspects, time management, engaging students, transportation, and weather. Here's how their responses break down: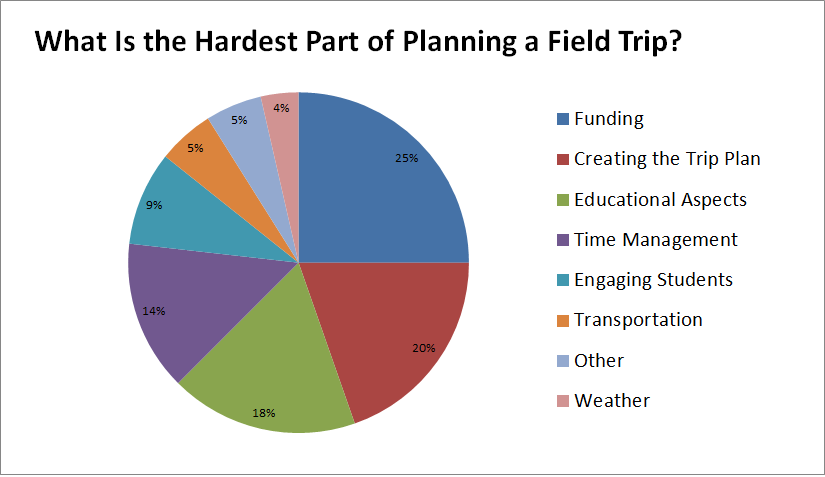 In this post, we wanted to go a step further and talk about the solutions to the four biggest problems. In each category below, we've included specific examples from organizers and our thoughts on the best ways to handle the problems.
With more than 35 years' experience in the business, we've seen just about every way a school tour can become tricky. Fortunately, we've found many handy solutions, as well.
Problem 1: Funding
What Trip Organizers Say:
"I need to make the trip affordable for all ranges of income."
"It's difficult to raise funds for transportation and lodging."
Solution:
Just about every school or youth group has experience with fundraising. We could write about door-to-door sales, help from the PTA, social media and crowdfunding campaigns and more, but we're guessing you know plenty about those methods already.
(And Googling "how to raise funds for a field trip" isn't too hard, anyway.)
But what you might not know is that, in some cases, Title 1 schools are eligible for funding assistance for transportation and other expenses. This is especially true if the tour is curriculum-based and it can be demonstrated that the field trip will help students on state-mandated standards of learning exams.
There are other grants available, as well – for instance, the Civil War Trust has a field trip fund. It  "provides funding and assistance to K-12 teachers who are planning field trips to Civil War, War of 1812, or Revolutionary War battlefields or related historic sites."
To qualify, teachers must apply online and include the date of their trip. There's a "rolling admissions" policy, and the Fund grants $250 to $1,500 to groups that qualify.
Finally, it's worth mentioning that if the school is using a professional student tour company, the company may have the ability and resources to provide extra complimentary trips for deserving students. It's worth asking.
Problem 2: Planning the Trip
What Trip Organizers Say:
"How do I coordinate hotels, chaperones and scheduling the tour to get the most out of our visit?"
"It is extremely difficult to find a place for 100 or more students to eat their bag lunches."
Solution:
They say there's no substitute for experience, and when it comes to planning trips to busy cities, with multiple stops and large groups, that's definitely true.
So the best solution to this problem is talking to someone who knows a lot about your destination. It may seem self-serving, but a good place to start is a student tour company — preferably one that has years of experience and belongs to an organization like the National Tour Association.
Reputable student tour companies also use local, professional tour guides on all trips, and professional tour managers on all overnight tours. These travel professionals handle logistics and make for smooth hotel check-ins, attraction visits, etc.
(If you go with a tour company, you also may want to read this post: 5 Crucial Questions to Ask a Tour Operator When Planning a Student Trip.)
We understand, however, that some teachers want to plan the trip themselves. For those who do and face a planning problem, the next best solution is to talk to others who know your destination well.
Are there other teachers at your school or in your school district who have taken groups there? Can you network online to find educators with experience? (You may be familiar with the #sschat community of social studies educators, which started on Twitter but also has a website and a Facebook page.)
Problem 3: The Educational Aspects of a Field Trip
What Trip Organizers Say:
"I need to make sure that the places we visit are related to the state's standards of learning."
"How do I encourage students to stay focused and create a learning experience rather than just a fun time out with friends?"
Solution:
For most trips, making sure the tour relates to state requirements is not too difficult. Well-known destinations and attractions in cities like Washington, Philadelphia and Williamsburg are often recognized by state departments of education as relating closely to the standards of learning.
Obviously, one would expect that a class studying the founding of the nation would benefit from visiting the National Archives in D.C. or the National Constitution Center in Philadelphia. But there are often other attractions that relate to curriculum and fly a little under the radar.
For instance, the Newseum in Washington, D.C. brings history to life through print, broadcast and interactive media. (Although it's worth noting that, as of February 2018, there could be changes afoot at the Newseum.)
Balancing learning and fun can be harder on a trip. Again, experience can make a huge difference in finding attractions that walk this line best.
Trip organizers with this concern should look for attractions that approach history from a different angle. For instance, the National Museum of African American History and Culture has a wing devoted to sports. The sports fans in your group will have fun and still learn in this section of the museum.
Do-it-yourself trip organizers also can find help from sites like TripAdvisor or Yelp by looking for reviews from parents and others who travel with children. We'd suggest you read many reviews before making a decision, and read them skeptically. It's not as good as counsel from a longtime tour operator, but taking the time to do thorough research online can improve your trip.
Problem 4: Time Management
What Trip Organizers Say:
"We need to make sure everyone on this tour complies with the schedule — how?"
"How do we choose the best places to focus our attention since we have a limited time span?"
Solution:
We've learned a few tricks over the years that make a trip run more smoothly. We're happy to share a couple.
For instance, we always build in extra time busing city-to-city and neighborhood-to-neighborhood, as transportation always takes a bit longer than one would think.
And we'll add an extra 30 minutes to the itinerary for check-in at the hotel — it always takes longer than you think.
The NEA has a smart article on running a successful field trip, and the three words that jump out to us are "Plan, Plan, Plan."
If a trip organizer does that, time management (and the other three common problems we've written about) will become much easier to handle.
Social Share