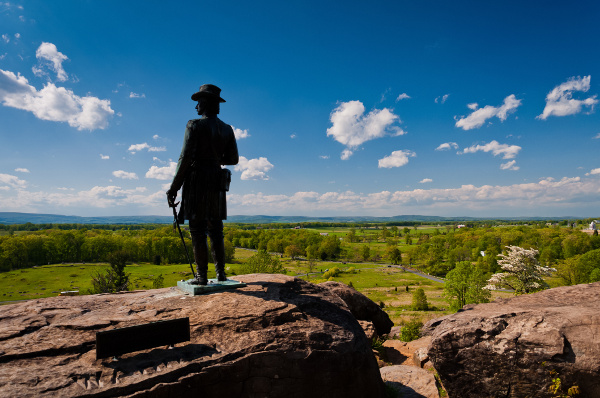 Updated January 2020
By Randy Julian
Editor's note: This post is part of a series aimed at helping teachers come up with single-day class trip ideas.
In this post, I've listed attractions in Gettysburg and Williamsburg/Jamestown ─ two of our most popular destinations ─ that are mostly or entirely outside. They are ideal for spring trips and trips in September and October, as well.
To see all of our day trip ideas posts, click this link.
A Gettysburg visit offers powerful history lessons, great scenery and a fantastic option for an outdoor field trip. With a guided tour ─ delivered in dramatic fashion ─ your students will be transfixed.
Although it's indoors, I will also recommend the Cyclorama as part of any Gettysburg visit. It's a massive oil-on-canvas painting  that surrounds visitors, depicting Pickett's Charge on the third and final day of the battle.
Want to learn more? The park offers a downloadable "Best Field Trip Ever" guide (pdf) for educators.
The 34th president used this Gettysburg farm as a retreat and a venue for meetings with visiting world leaders. Groups can tour the house as well as the spacious grounds, which includes a PGA putting green, rose gardens and a presidential limousine.
There are also exhibits detailing President Eisenhower's life and times, and a 30-minute program on D-Day and the soldiers Eisenhower commanded that day.
When you mention Jamestown, most people think of the settlement not far from Williamsburg, Va. But Historic Jamestowne, jointly administered by the National Park Service and The Colonial Williamsburg Foundation, offers a little more rustic experience.
Historic Jamestowne is the site of an ongoing archaeological dig and also features historic exhibits, glass-blowing and period artisans. A visit here is a great way to get another view of America's first English settlement.
I like to say that Colonial Williamsburg is America's first outdoor museum. Tours here offer a glimpse into 18th-century social, economic and political living, and the story is told by "interpreters" in period dress.
Colonial Williamsburg offers a wide variety of tours, each customized for specific grade levels and topics. And if you want to head indoors, several museums continue the story of the capital of the Virginia colony.
Lunch Tip in Gettysburg
Box lunches can be provided at the Visitors Center, or groups can enjoy a special student buffet at the historic Dobbin House in town.
Lunch Tip in Williamsburg/Jamestown
Arrangements can be made for lunches to go, or give your students a taste of colonial cuisine at one of the town's many popular taverns.
Did You Know?
The English were not the first Europeans to arrive in Virginia ─ the Spanish were. In 1561, explorers from Spain arrived in the Chesapeake Bay, and tensions between Spain and England ran high in the region from the 1570s until the early 1600s.
All the best,
Randy
Social Share