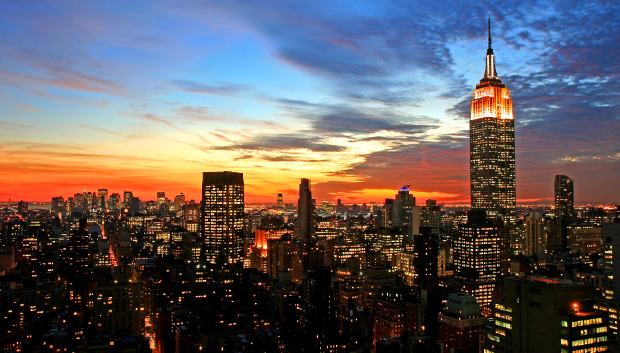 Note: This is part of a series of blog posts pinpointing under-the-radar, enriching stops on field trips to Julian Tours' top destinations. Experience tells us these sites will help you beat the crowds and create a truly memorable experience on your next group trip. For more entries in the series, click here.
Without a doubt, the most eye-popping view of New York City is from the Empire State Building's dizzying yet thrilling 86th and 102nd floor observatories. But ascending to the observatories can be a test of patience for school groups when the lines to buy tickets, go through security and ride one of the gilded elevators to the top are an hour or more long.
Except at night.
An evening outing is an ideal excursion on a New York City field trip if you want to avoid Empire State Building crowds. The majority of the building's 3.5 million annual visitors go during the daytime, so wait times generally are shorter after the sun goes down.
A post-sunset visit also provides an appropriate evening activity—something to keep your students together and otherwise occupied in the City that Never Sleeps.
And the 360-degree views? Beyond breathtaking. Seeing the glittering buildings at night from that high vantage point provides a memorable perspective on the city that your students may not otherwise experience. Suddenly you understand how New York City can be seen from outer space.
Times Square is easy to spot—it's the most illuminated and flashy place you'll see. The Chrysler Building to the northeast stands alone like an Art Deco beacon. On a clear evening, you can see planes on their approach to the area airports and boats on the rivers.
There are a number of advantages to going to the observation level of the Empire State Building at night:
Just about all other student-friendly attractions are closed in the evening. This will give you something to do after dinner.
Depending on when you go, the wait time to get to the 86th floor observatory could be as short as 20 minutes. Daytime visitors should expect to wait more than an hour.
The crowds taking in the view along the outdoor observatories could be thinner, making it easier to nab a good spot to snap photos.
On Thursday, Friday and Saturday nights, a saxophonist often plays live music on the 86th floor, adding some additional ambience.
Not that you'd necessarily want to take students there very late, but the Empire State Building is open until 2 a.m. The 86th floor observatory is included in the cost of general admission, and a visit to the 102nd floor observatory—which is small and doesn't necessary provide much more of a better view—costs extra.
If a nighttime visit isn't possible, try to go between 8 and 11 a.m. to beat the crowds.
Some additional tips:
If you can delay dinner, visit the Empire State Building at sunset. Your students would be able to see both the street layout and the glittering nighttime lights.
Dress warmly for a nighttime outing if you visit during a season other than summer. Even in the spring or fall, it can be chilly and windy 86 floors up.
If you're visiting during a holiday, expect long lines, regardless of what time of day you go.
Schedule a restroom stop on the second floor, before you get in line for the elevators to the observatories.
There's no food and drink for purchase at the top; bring water if you think you'll get thirsty.
If you allow it, suggest that students chew gum during the elevator ride, to keep their ears from popping.
Don't forget to look up! So many visitors spend their time looking out across the city that they forget about one of the most interesting views—upwards, at the very tip of the skyscraper.
Social Share