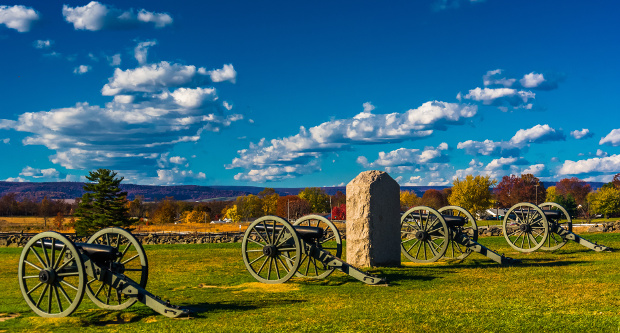 Note: This is part of a series of blog posts pinpointing under-the-radar, enriching stops on field trips to Julian Tours' top destinations. Experience tells us these sites will help you beat the crowds and create a truly memorable experience on your next group trip. For more entries in the series, click here.
Instead of taking your student group for dinner at a buffet restaurant or in hotel dining room, students on a Gettysburg field trip can dine just as Civil War soldiers did.
Dating from 1810, the historic Farnsworth House Inn is a bed and breakfast and restaurant that offers special programs for groups. Visitors can tour a replica Confederate soldier camp and experience how soldiers lived and dined.
During the "In Their Shoes" tour, a Farnsworth House guide in full battle dress will lead you across the property and educate you about the battle before taking you to the mess tent area. Thirty- to 90-minute programs are available.
Civil War Camp Dinner 
Menu options for the Civil War Camp dinner program have been nicely designed with children in mind. They include burgers, hot dogs, beef stew, creamed chicken over buttermilk biscuits and more. All are served with mac and cheese, applesauce, baked beans, and whipped cream-topped gingerbread.

For a special offering, the staff can slow roast a whole pig for your group. Referred to in Civil War times as "salt pork," the pig is roasted for seven hours then hand-pulled and served plated.
The Civil War Camp dinner program is available on Fridays and Saturdays from April through mid-November. Special rates are available for groups of 25 or more people.
For an additional fee, you can add a history presenter or storyteller to entertain your group during dinner. There are impersonators, too – President Abraham Lincoln, Gen. Robert E. Lee and his wife, Mary Anna Custis Lee.
Civil War Feast
If the modern-day menu doesn't suit you, the Farnsworth House offers a more authentic dining experience for groups.
Dishes on the menu of the "Civil War Feast" are true to the time period and include goober pea soup (a dish made peanut butter and cream), sweet pickled watermelon rind, spoon bread and game pie (made of pheasant, duck, turkey and bacon). Apple pie, cinnamon bread pudding and chocolate fudge cake round out the menu.
Note that this option is pricier than the more basic Civil War Camp Dinner experience and may not appeal to finicky palates.
Main Dining Room
The Farnsworth House Inn also has a main dining room in the original house and patio garden seating areas with regular menus. As seating is limited, the other dinner options are better choices for student groups.
While You're Visiting
In addition to the activities noted above, the Farnsworth House Inn also has an art gallery, sells antiques and offers ghost tours.
Some interesting facts about the house to share with your students:
The house is named after Brig. Gen. Elon John Farnsworth. He and 65 of his men died in a poorly advised charge.
Confederate sharpshooters took up residence in the house during the Battle of Gettysburg.
More than 100 bullet holes from the Battle of Gettysburg still exist in the walls of the house.
Abraham Lincoln's procession passed by the house in 1863 on his way to the National Cemetery, where he delivered the Gettysburg Address.
Social Share