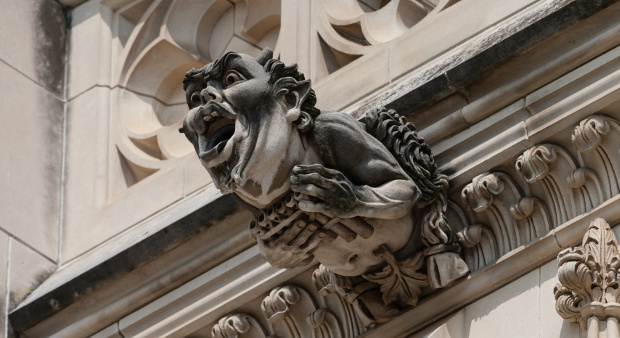 Note: This is the first in a series of blog posts pinpointing under-the-radar, enriching stops on field trips to Julian Tours' top destinations. Experience tells us these sites will help you beat the crowds and create a truly memorable experience on your next group trip. Click here for more entries in the series.
Updated October 2018
Religion can seem like a serious, formal subject to children. But it doesn't have to be that way.
Surprisingly enough, a tour of the exterior of the Washington National Cathedral is the perfect setting to show the sense of personality and humor that can exist within religion. For that reason, the National Cathedral can be a rewarding stop on a school trip to Washington, D.C. – and not many people realize it.
There are quite a few entertaining carvings along the exterior walls of the National Cathedral, which is about two miles north of Georgetown. The carvings come in the form of figures called grotesques and gargoyles. (Gargoyles are defined as a special category of grotesques that have spouts to force water away from buildings and prevent erosion.)
The most famous grotesque on the 300-foot cathedral takes the form of Darth Vader from Star Wars. Luke Skywalker's dad is hard to see with the naked eye, but Darth intentionally lives high up on the "dark side" of the cathedral – that is, the sunlight-deprived northwest tower. A 13-year-old boy who placed in the top three of a National Geographic World contest in 1985 designed the gargoyle.
A cartoon-like carving of the cathedral's master carver is another humorous touch at the cathedral. The caricature of Roger Morigi on the north side of the nave depicts him as a devil with horns poking through his cap and hands clutching the tools of his trade.
Other cheeky grotesques include a "crooked" politician, a singing man with big curly hair and a boy with a stolen cookie jar at his feet.
In total, there are 112 gargoyles and thousands of grotesques and other carvings.
While National Cathedral docents offer official gargoyle and grotesque tours for a fee, participants must be at least 10 years old, and the tour is not available to bus groups. If you have a small group that's of the right age, the tour is usually offered monthly, and advanced reservations are needed (Julian Tours may be able to help you reserve a tour).
The Cathedral now requires visiting groups of 15 or more to schedule a tour (click here for reservations) or attend a service. You could enhance that visit by designing your own exterior tour of the cathedral using online resources, including this interactive gargoyle map. Students should bring binoculars (or rent enough pairs for two or three students each to share a pair).
You could also turn an exterior tour of the cathedral into a scavenger hunt, giving students clues to help them find certain grotesques. How many dragon gargoyles can they spot? (There are 13 in total, including the pointy-toothed "Sleek Dragon"). Can they spy the shocked-looking bishop who caught a man whistling at ladies passing by? Where is the gargoyle suffering from a bellyache?
Along the way, you can teach your group about the Middle Age-esque architectural features of the cathedral, including arches and flying buttresses.
It's also a good place to teach drawing and perspective. Did you know that the cathedral is intentionally asymmetric, which both compensates for distortions of the human eye and reinforces a medieval custom that illustrated only God, and not man, could construct things perfectly?
Social Share